Buy the Best Wholesale Pumpkins in Missouri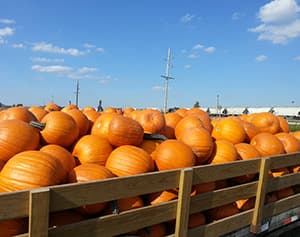 If you are a retailer, a grocery store, or a small business owner looking to place bulk orders for pumpkins, then look no further than Bankhead Vegetables. Our wholesale pumpkin farm produces and grows a full line of fresh, high-quality autumn produce ranging from pumpkins and ornamental gourds to other vegetables and produce.
Located just outside of St. Louis in Clarksville, Missouri, we are one of the leading wholesale pumpkin suppliers in Missouri.
We sell a large variety of pumpkins and decorative gourds. In addition to traditional pumpkins, we also grow various colored pumpkins for Halloween. You can choose to buy our high quality wholesale pumpkins loose, or by the bin in the following quantities:
Small (80-90 bin count)
Medium (40-50 bin count)
Large (25-35 bin count)
Extra Large (10-20 bin count)
For more information on how to order bulk wholesale pumpkins, please contact us online or call Reid Bankhead today at 573-754-0004, and we will be glad to assist you!
Why Order Wholesale Pumpkins from Us
As a family, we have built our lives around our farm and have turned it into a lifelong labor of love by embracing the agricultural livelihood. As a result, we are now a leading supplier of high-quality wholesale pumpkins throughout all of St. Louis and the Midwest.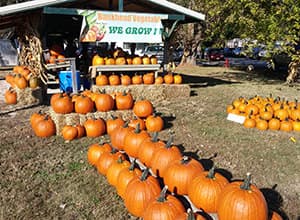 Our farm is dedicated to growing only the best pumpkins, which you can proudly put on display. We can assure that your customers will be fully satisfied with the quality of the pumpkins they buy from you, resulting in repeat sales and long-lasting relationships with your customers. We are sure this is what your goal is with your customers, just as this is our goal with you. That is why we strive to make sure that we stay consistent by providing only the best quality of pumpkins year after year.
We do this by planting only high-quality varieties of pumpkins, so we can achieve a highly superior product by autumn. We plant the most popular varieties of pumpkins in all shapes, colors, and sizes to give you a wide selection of pumpkin products to choose from.
Located just outside of St. Louis, Missouri, we supply wholesale pumpkins nationwide. We deliver wholesale pumpkin orders within 250 miles from our location in Pike County. As for the rest of the country, we ship our wholesale pumpkins in the manner that best suits order size. We offer a Quality Guarantee with every order. Our produce is guaranteed to arrive to you in great condition, and if you are not satisfied with the quality of the produce in anyway, then please contact us right away.
Contact Us for Freshly Harvested Wholesale Pumpkins in Missouri
We pick and cut our pumpkins in line with your order, so you are guaranteed to receive freshly harvested products. To order bulk wholesale pumpkins from us, call us at 573-754-0004 or contact us online today!