Buy Fresh Produce at Our Farmers Market Locations in Missouri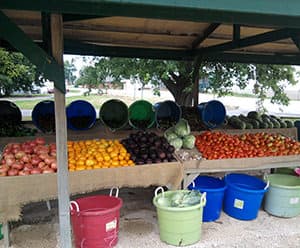 From our farm to your table, we deliver the freshest vegetables and produce on this side of St. Louis. Bankhead Vegetables is a family-owned and locally operated sustainable Missouri farm that has been growing pumpkins, ornamental gourds, and a wide range of vegetables for more than 25 years. We use only the highest standards for growing our produce while at the same time sustaining the earth from which these produce grow. The result is fresh produce with that homegrown taste, just like it came from your own backyard.
Visit our vegetable stands today, or for more information on how to order bulk pumpkins and vegetable produce from us, call us at 573-754-0004.
Where to Find Our Farmers Market Stands
Here are the locations of the farmers markets where you can find us and buy homegrown farm fresh produce, either in small amounts or in bulk quantities:
Clarksville Farmers Market Location
Hwy 79
Clarksville, Missouri
Hours: Monday - Sunday: 8:00 am - 6:00 pm, July 1st through October 31st
View Location
Bowling Green Farmers Market Location
South Business Hwy 61
Bowling Green, Missouri
Hours: Monday - Sunday 10:00 am - 6:00 pm, July through October
View Location
Why Buy from Our Farmers Market Stands
Whether you are simply planning hearty and healthy meals for your family or you are a chef intent on making delicious dishes that will be served at your restaurant, our farmers market stands are here to help. From our farm to your kitchen, our homegrown vegetables are picked on the day of delivery to guarantee their freshness. From traditional vegetables like corn and tomatoes to jalapenos, cantaloupes, and watermelons, we have a variety of farm fresh produce available throughout the season. We sell a variety of fresh, hand picked produce each day, and you can also contact us in advance for bulk orders.
Some of the types of produce you will find at our farmers market stands includes: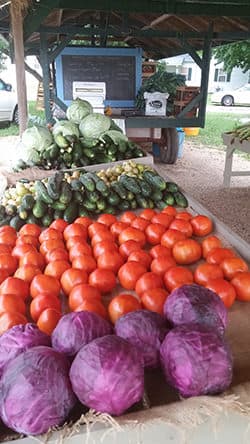 Tomatoes
Bell Peppers
Sweet Corn
Green Beans
Jalapenos
Cucumbers
Zucchini
Eggplants
Cabbage
Potatoes
Beets
Watermelons
Cantaloupes
Carving Pumpkins
Pie Pumpkins
Decorative Gourds
How to Get in Touch With Us
For fresh and locally grown pumpkins and vegetable produce Clarksville and Bowling Green, MO, choose Bankhead Vegetables. We strive to provide you with the best vegetables and produce that will keep you coming back for more! For questions about our farm stands, contact us online, by phone, or send us a quick message through Facebook. If you would like to order wholesale bulk pumpkins or produce for retail, please call us at 573-754-0004 for immediate assistance.