A Leading Pumpkin Farm in Missouri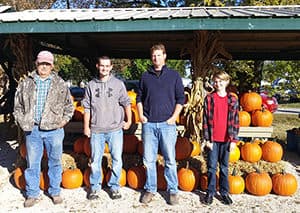 If you are a looking for a reliable wholesale pumpkin supplier, Bankhead Vegetables is here to serve you. Bankhead Vegetables is one of Missouri's leading pumpkin farms, producing freshly picked and locally sourced pumpkins, ornamental gourds, and vegetable crops. To get more information on our bulk pumpkins and other farm produce, please contact us at 573-754-0004.
What We Do
At Bankhead Vegetables, we are a sustainable pumpkin farm located in Pike County, MO, which is just an hour's drive away from St. Louis. We grow our pumpkins, gourds, and vegetables in fertile and nutrient-rich Mississippi River bottomland. We provide homegrown and handpicked pumpkins of all sizes and varieties all across the Midwest through delivery and shipping.
Aside from our legendary pumpkins and ornamental gourds, we also produce a wide range of vegetable crops, which we can supply to various grocery stores. We also have two convenient farmers market locations in Clarksville and Bowling Green, Missouri where we sell our homegrown farm fresh produce and pumpkins to our loyal customers.
Why You Should Buy from Our Pumpkin Farm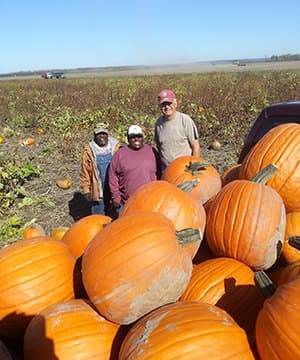 As a family-owned and locally produced pumpkin farm, Bankhead Vegetables grows handpicked vegetables and pumpkins from scratch. We strive to produce the highest quality homegrown produce, the kind that you would grow right in your own backyard. Our pumpkin farm has been in business for 25 years and we are fully insured. As a wholesale supplier of pumpkins in the Midwest, we provide superior delivery and shipping services.
Our friendly and accommodating staff is dedicated to fulfilling your orders by providing efficient logistical solutions so you receive the pumpkins you ordered from us in their best condition and in a timely manner.
We are fully committed to giving back to the land that has given us so much, as well as giving back to our community, which is why we use sustainable farming methods that are environmentally friendly. Food safety is always our number one priority, which is why we implement strict quality control standards on everything we grow on the farm. We tend to the pumpkin farm ourselves and we eat our own vegetables. We also help other people in our small community by providing jobs on the pumpkin farm, and we build authentic relationships with our customers, because we believe in doing business with friends.
Learn More About Our Pumpkin Farm
From pumpkins to gourds and everything in between, we have something for everyone! Bankhead Vegetables is a family owned pumpkin farm that grows only the freshest pumpkins and vegetables. We are a wholesale and direct supplier of high-quality pumpkins all across St. Louis and the Midwest. Stop by our vegetable stand today or for pricing inquiries on our bulk pumpkins and produce orders, please call Reid Bankhead at 573-754-0004. We look forward to hearing from you soon!